Archive for September 2012
We've got a mix of everything on today's show, including some release date updates from this past week. We also discuss the importance of pulling out your MLB playoff team cards now - because there will certainly be some careers made in the next month or two.
2012 Upper Deck SP Authentic Golf is the very first set in this series since 2005! You'll find some of today's best golfers including Tiger Woods, Ernie Els and Dustin Johnson. You will find 3 autographs in each box, plus there are some serial numbered rookies to chase down as well.
I also analyze 2012 Panini Prominence Football, which is an interesting set with 5 different 'rookie' sets within the product. I actually am a fan of that, as long as one of your favorite players is in the 'photo-shoot' group of rookies that get cards. I also take a look at some box break sales - and how sellers and buyers can benefit from these sales.
Complete show notes and more - Sports Card Radio Show #109
Share
|
Download(

Loading

)
On today's podcast we talk about pricing rare 1/1 or unique cards that are hard to find a comparison to. We also discuss the Top 10 2012 Topps Triple Threads cards that were sold ... including a case break spot that went for about 1/4 of the case value! I also quickly give some tips on buying off the 'beaten path' or re-visiting a site I used to buy from in the past.
Complete Show Notes can be found at Sports Card Radio Show #108
Share
|
Download(

Loading

)
We talk about a mix of things on today's program, including some release date changes on Cooperstown Baseball and Topps Strata Football. We also discuss a quick tip on how to identify if you vintage cards might be fake or real. Our final tip in the first segment is how to create an effective ad for your shop or website.
We touch on a few products that have come out recently. 2012 Panini Americana Heroes and Legends is a mixture of Olympians and other athletes, presidents, astronauts and even war veterans. It's a pretty cool set that lots of people that don't collect cards regularly will probably enjoy because of all the variety inside.
My favorite sports is BASKETBALL - and I'm really excited about the season and this years Panini Prestige Basketball. I think this is a cool set because it delivers ~100 rookie cards and ~75 autograph rookies. I think there will be lots of excitement around the NBA this season coming off the London Olympics - and I expect many of these young players to play big roles on their teams this season.
Complete show notes and more download links can be found at Sports Card Radio Archive
Share
|
Download(

Loading

)
On today's show we discuss a some selling tips given out by a fan of the podcast. Plus, we talk about 2012 Topps Platinum Football, 2012 Panini Momentum Football and finally 2012 Topps Heritage Minor Leagues Baseball.
On last week's show we got some feedback on selling cards online for a serious business or career. These are some great tips that really take advantage of eBay's fee structure that allows you to list items on the site essentially for free. We also talk about some other ways to pick up products cheaply, and how to stay educated on product without opening it yourself.
I think that with Topps going with on-card autographs in 2012 Topps Platinum Football, that they had to make the top names like Andrew Luck, RG3, Trent Richardson and Ryan Tannehill much more rare than any of the other cards in the set. Panini Momentum Football is a 'new' brand (that has been re-born from the past) - and contains mostly sticker autograph ... but the RG3 and Andrew Luck auto RC's start at 399. I don't think $200 is great value for any box, but if you can find 1 pack of this for $20 or $25 - it would be a fun break.
Complete show notes and more can be found at Sports Card Radio Podcast #106
Share
|
Download(

Loading

)
On today's show we discuss one of the most highly anticipated basketball releases, 11/12 UD Fleer Retro Basketball.  We also discuss some selling tips if you want to make more money on eBay.
Fleer Retro basketball has some inserts that mimic the original versions that are very popular today. Precious Metal Gems #/150, #/50 and #/10 are big sellers right now, and we'll see if the values hold up as more people open the product. Boxes are really expensive, selling for north of $325.00 in some cases. The real big hits in this product (aside from Michael Jordan and LeBron James autographs) are non-auto inserts that are 'retro' designs of the past.
We also rundown some good information from a thread started on the Blowout Cards Forum - and we discuss the good points brought up by sellers. Visit Sports Card Radio Archive for complete show notes and more.
Share
|
Download(

Loading

)
It's like Christmas Eve!! The NFL season starts this week and before the games start we go Buy - Sell - Hold on a few players that I target this season. Before that we touch on some news:
Kareem Abdul-Jabbar is getting a statue in front of the Staples Center in Los Angeles.
Shaq and Jamaal Wilkes are getting jerseys retired in LA too.
The Industry summit in Las Vegas in March 17 - 20 2013 at the Orleans Casino
COA's
I also touch on 11/12 Panini Prime Hockey, which to a non-hockey collector looks amazing. I'd be all over this if it was for basketball or football ... hopefully Panini does something similar - the auto's and patches from this set are amazing.
Buy - Sell - Hold Football includes Joe Flacco, Tim Tebow and many 2012 NFL rookies.
Full Show Notes & More: Sports Card Radio Show #104
Share
|
Download(

Loading

)
---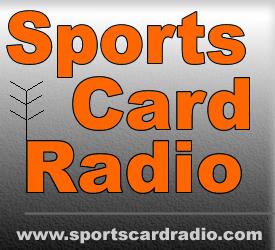 Following
Followers