Archive for August 2012
A few weeks ago my brother Ryan was at the National Sports Collectors Convention in Baltimore, MD - and he caught up with a few people at the event.
@ScoobyCub is one of the BEST twitter accounts when it comes to getting real feedback from Upper Deck's product manager. He talks about recently released 2011 Upper Deck Exquisite Football + lots of stuff that will be coming out for them in the future on today's show.
Kevin Heffner from Historic Autograph Company joins us to discuss the recently released Why The Hall Not set that features players that should be in the HOF with legends that already are. Plus some news about the companies 1st non-baseball release.
Finally the owner of Blowout Cards joins us to discuss why the National Sports Collectors Convention is important to his business. Even if you're business isn't quite as big as Blowout Cards - you get some good advice on how to use Card Shows to grow your business.
For complete show notes visit Sports Card Radio
Share
|
Download(

Loading

)
With all the releases that have come out recently, it made me think having a big limit on your Visa card might be good right now.
2012 Topps Chrome Baseball came out at around $72.00 per box. It has lots of parallel cards and autographs of Bryce Harper, Yu Darvish, Matt Moore and more MLB rookies.
2012 Topps Finest Football is out, and this set is strictly for the rookie card collectors. There are a few veteran players in here but not many. Hobby boxes (2 mini boxes) sold for around $105.00 the day they came out.
2011 Upper Deck Exquisite Football is out FINALLY! I think this set is worth the wait, the Shadowbox cards are really cool and there are tons of on-card autographs in this set. Boxes came out in the $555.00 range - if you can find one.
We run down some news and cover some other topics on the show. For complete show notes and more - visit Sports Card Radio.
Share
|
Download(

Loading

)
August has already been a HUGE month for new sports card releases, and more are on the way in the back half of the month too! We talk about a few news items before we discuss some of the latest products.
News Items:
Ryan Matthews is hurt and out 4-6 weeks
Dwight Howard goes to the Lakers (like we said last month)
Manchester United prices it's public offering at 16.7m shares at $14 per
You can search by team on COMC - just type in a team name
A fan forum member suggested using dupe cards for TTM autographs
@thatdanroe on Twitter suggested that the Titanium "RC" cards are too rare
The new releases we discuss are 2012 Topps Football, 12/13 NBA Hoops Basketball and Goodwin Champions from Upper Deck.
Please visit Sports Card Radio for complete show notes and more.
Share
|
Download(

Loading

)
Today on the podcast we have Ryan who is at the National Sports Collectors Convention in Baltimore. He's spent the last two days getting photographs, talking to dealers and collectors from all across the country and we get his thoughts on today show.
One of the highlights today was a panel discussion by the Topps Company, where they talked about redemption cards, getting Bryce Harper into sets, future products, and other things related to manufacturing cards. If you need a Cliff Notes version of what happened here is a link. We talked about what else to expect for the rest of the show. We close the show with some tips from local dealers that have had success with selling gaming cards in their sports cards shops. It seems like sports cards are less and less a part of the business and dealers are having lots of success selling Pokemon, Yu-Gi-Oh, Magic and other gaming cards in their stores. However, this week is all about sports and sports collectibles and they have been on in full display at the convention.
Be sure to check back at sports car radio later in the week for more coverage from that and asked NSCC.
Also I wanted to add since this is show number 100, I wanted to thank all the listeners that have contacted me throughout the last four years and I plan on continuing the podcast and enjoying a hobby right along with you thanks again.
Share
|
Download(

Loading

)
---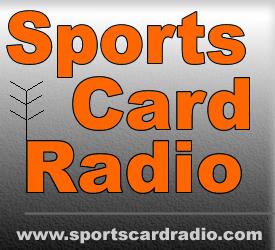 Following
Followers