Archive for July 2010
Now in its second year - The Sports Card Show Podcast takes a little time today to thank those that helped us get to where we are at today. Hopefully things just keep getting better and your collections get better as well.
I say early on in the show that I will be talking about buying/selling boxes of cards wholesale - but we run out of time so you will have that to look forward to on Show #58.
Products That Released This Week:
2010 Score Football I actually like this product - its a low end $1.00 Per Pack - but there is a good mix of veteran autographs along with the 2010 NFL draft picks. Don't expect to get an autograph unless you buy a large amount of this product by the pack. However you may want to check around for single card autographs as there will be some deals to be had.
2009/10 Panini Crown Royale Basketball This is a cool 'retro' product that brings back memories of Pacific Crown Royale Baseball and Football sets. The familiar crown cut-out at the top of the cards make for some unique pieces of cardboard. There will be rookie card autographs #/499 or less that will be on-card signatures. You will also find many other top NBA player cards like Kobe Bryant and the New Big 3 LeBron James, Dwyane Wade and Chris Bosh.
- Listen To Show #57 Below -
Share
|
Download(

Loading

)
We announce a New Contest - This one is almost full so you better sign up on this forum thread. Its a 100% Free Group Box Break - All you need to do is reply in the thread!
On Show #55 of The Sports Card Show Podcast we talk about the #1/1 Superfractor Stephen Strasburg that originally sold for $16,403 - was graded 9.5 Gem Mint from BGS - in the process of being sold online for a final selling price of $25,000 dollars!! Wow - that's an impressive return even with all the fees associated with selling and grading!!
We also noted that the #1/1 Red Autograph Parallel was getting bids in the 6 Figures!! Well, that auction was taken down and now the card will appear at a Huggins & Scott auction soon. We'll update you when that happens.
2010 Topps Allen & Ginter Baseball This is always one of my favorite sets to just look at - as I've never actually opened any boxes of this stuff myself until this year. I love the fact that it includes non-baseball athletes, celebrities and other people. I make a point on the show that you should look to share these cards with people that have a passion for those things and it may open up the doors to collecting to someone that would have never had interest otherwise. A set like this gets criticized for having too much non-baseball (this year has animal cards) but I think its great - and brings attention to baseball cards - which is always good.
09/10 Panini Court Kings This is a set - that if it came out in December would have probably sold out. Not that it won't or hasn't now - but now that the season is over and the 10/11 Rookies are already having Press Conferences with the teams ... I'd be wanting those players. Nevertheless its a cool set and hopefully it will keep prices down on what otherwise was supposed to be a $100 a pack product. The base cards are all serial numbered in this set - I love that for some reason, because it makes even those cards somewhat collectible even after the fact. Plus it adds to the excitement of putting together an entire base set because they are all numbered cards. I'm criticizing the release point of this set - but in actuality it helps keep the price down so I think this is a winner for basketball collectors. Keep in mind though, that Crown Royale Basketball, Panini Update, Hall of Fame, and National Treasures all still will come out under the 09/10 label - so more is coming.
Our Official Website: www.sportscardradio.com
- Listen To Show #56 Below -
Share
|
Download(

Loading

)
---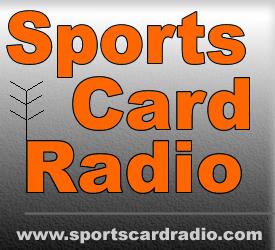 Following
Followers