Archive for May 2010
This week has us talking about two nice sets that are out this month. One is a familiar staple that collectors expect every season, the other is a 'new' basketball set that has some good hits for a Panini product.
This set is similar to Topps Series 1 except you will find a few new surprises in this set. The short print base cards (remember PITF and the legends that were SP in series 1) are now announced - and have a stated print run of 3,000. The Million Card Give-A-Way now will include original T-206 cards that collectors can hunt down online. Look for this set to be out on Thursday May 27, 2010.
2009/10 Panini Absolute Memorabilia Basketball
Another football carry-over for Panini/Donruss - but this is a good one to bring over from the gridiron side. Tools of the Trade and RPM Rookie Cards have been popular with collectors and people seem to enjoy them for basketball. The only thing about this set was the timing ... only a week after Timeless Treasures Basketball - which was another expensive product from Panini. It might sell better if you spread out releases out more.
Don Drysdale wore #53 and we talk about this Baseball Legends collectibles and career.
Send us an e-mail: sportscardshow@gmail.com
Visit Our Official Website: www.sportscardradio.com
Join Our Fan Forum: www.sportscardradio.com/forum
- Listen To Show #53 Below -
Share
|
Download(

Loading

)
So much jammed into this show - that the title can't even fit everything that we have going on. We bring you another interview with a Sports Trading Card Podcaster, and we discuss three new product releases this week.
Chris from The Football Card Collector Podcast joins us to discuss some of the things you can expect from his program and a little about his collection. We discuss upcoming 2010 Football Card Releases along with some of the rookies that might make an impact this season. Be sure to join Chris in his box breaks along with the fellow listeners.
2010 Bowman Baseball is as hot as I can remember a Bowman set ever being. It all revolves around 3 players autographs - Stephen Strasburg, Jason Heyward and Starlin Castro. Be careful to not get wrapped up in the hype as this product can become expensive if you are opening it by the box. By the end of the season, this product may not look quite as nice as it does not - or it could look better if the prospects and rookies play well. Tough call - but be careful not to overspend here early.
09/10 Panini Timeless Treasures Not exactly everyone's favorite product, but it is a good attempt at a 'new' product from Donruss/Panini to establish itself in the basketball card market for next season. I've got to say - some of these single cards will be worth checking out if you are a bball fan. More deep checklists and interesting inserts to chase after - and Panini could have a winner here in the long run.
2010 Playoff Prestige Football Not sure if its even called Playoff Prestige anymore - but same difference. Collectors will again complain here that this set looks an awful lot like many other mid-low priced Panini Products. You can tell not a bunch of time was spent on this set, but these early big-print run sets tend to get pumped out quick because the company wants to get the product out as fast as it can. We'll see if collectors look past all that and scoop up Tim Tebow and Sam Bradford no matter what a card looks like...my guess is that they will.
- Listen To Show #52 Below -
Share
|
Download(

Loading

)
The NFL draft has concluded and most of the top picks were actually defensive players. However the offensive players taken, including Tim Tebow, Sam Bradford and Jimmy Clausen should have a huge hobby impact even if they don't play much in their first season. We talk about the first 2 rounds of the NFL draft and how some of those players might make an impact in your collection.
May is a big time release date for some good products and we talk about a few of them. Be sure to tune into future shows where we discuss more of these sets in depth:
2010 Bowman Baseball - May 12, 2010 This year's Bowman baseball stands out as it will have autograph cards of several top prospects in baseball including Stephen Strasburg, Aroldis Chapman and Jason Heyward. The checklist is large and has been recently updated. Find the complete set and more by following the link above.
2010 Panini Prestige Football - May 12, 2010 This years first licensed football cards make their way onto the market this week. The latest draft picks including Tim Tebow, Sam Bradford and many more will be on cards featuring their team colors and information. The RC cards will feature draft day photos and the checklist is fairly large and should be a great way to start the 2010 football season off.
2009/10 Panini Timeless Treasures Basketball - May 12, 2010 This is ones of Panini's largest checklists to date. There are many autographs and parallels contained within this set making it one of the more exciting releases to date. With Absolute Memorabilia and Court Kings to follow, it will be interesting to see if basketball collectors spend big on a set like this.
2009/10 Panini Absolute Memorabilia Basketball - May 19, 2010 This popular football release is sure to be a hit with basketball collectors. The jersey cards and autographs look great and the checklist is fairly large. Expect many basketball collectors to be running light in the wallet after this and Timeless Treasures Basketball come out within 1 week of each other.
2010 Topps Series 2 Baseball - May 27, 2010 With the popularity of the Topps Million Card Give-A-Way and many other SP variation cards, collectors are surely waiting for Topps Series 2 baseball. The checklist is massive and considering how much Series 1 boxes have gone up in price recently - expect this product to do the same.
Visit Our Official Website: www.sportscardradio.com
Join our Fan Forum & Win Free Stuff! www.sportscardradio.com/forum
- Listen To Show #51 Below-
Share
|
Download(

Loading

)
---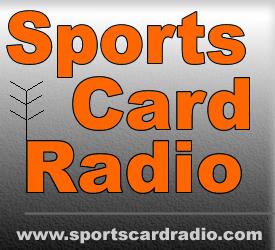 Following
Followers