Archive for March 2010
Two nice products come out in the coming weeks for Baseball and Basketball collectors to check out and we cover both of those products. We also talk about how to make money breaking down mini boxes and selling them online.
2 (6 Pack) Mini Boxes per Hobby Box Look For 1 Autograph card per mini box and 1 2010 RC redemption card in each hobby box. There are plenty of letterman patch autograph 'true' baseball rookies like Madison Bumgarner and Buster Posey along with 18 other rookies. Expect to pay around $100 for a complete box when it comes out March 24, 2010.
09/10 Panini Classics Basketball
18 Pack - 5 Cards Per Pack Look for 4 autograph or jersey cards per box with at least 1 auto. A sealed box will set you back around $95, however this is one of the final 'mid level' price point proucts that Panini has planned for 2009/10 season. 09/10 Panini Court Kings, 09/10 Panini Absolute Memorabilia, 09/10 Panini Crown Royale and 09/10 Panini Timeless Treasures are all sets that Panini has planned that will be higher end products that will deliver less cards on a pack/box basis. Panini Classics and the recently release 09/10 Panini Studio Basketball may be sets to look into if you enjoy opening lots of pack & cards.
Our last segment is a good one for those who are in the business of selling cards online, or those that just want to know a bit more about the topic. Ryan from www.sportscardreport.info describes how you can purchase boxes of 2009 Bowman Sterling Baseball on eBay and re-sell them at a higher price.
Please Visit Our Official Website: www.sportscardradio.com
Send us an e-mail: sportscardshow@gmail.com
- Listen To Show #48 Below -
Share
|
Download(

Loading

)
2010 Topps Pro Debut Series 1 Baseball
This is Topps first product using the MiLB license that they obtained several months ago. This is for the prospector or the Rookie Card collector as you won't find the veterans and stars in the MLB. Only Minor League Baseaball's brightest stars (and a few young MLB Prospects like Madison Bumgarner)
There are 24 packs per box - 8 Cards Per Pack 1 Jersey Card Per Box + 2 Autograph Cards
Keep in mind this is Series 1 so we expect some of the 2009 MLB draft picks to make it into Series 2. A cool debut product from Topps, worth taking a look at if you are a rookie or baseball prospect collector.
2010 Sage Low Series Football
This product contains 6 Autographs per box, which will set you back around $100. There are no Tim Tebow, Golden Tate and a handful of other notable rookies autographs in this set because they have deals with Press Pass. Be sure to take a look at the checklist on this product before you spend some hard earned money and realize that many draft picks are not in the set.
BballCardPro.com - Nick Sabo joins us and gives us some insight on what he collects and how he talks about it on his recently started website. Be sure to check out this young bloggers site and support him.
On The Next Show:
2010 Topps Finest Baseball - Complete Checklist Provided
09/10 Panini Classics Basketball - Complete Checklist Provided
Please Visit Our Official Website: www.sportscardradio.com
You can E-mail the show: sportscardshow@gmail.com
- Listen To Show #47 Below -
Share
|
Download(

Loading

)
The 2010 MLB Prospect Kick-Off Show is here! We talk about over 20 young MLB prospects that may make an impact soon.  This is a great episode for anyone looking for baseball prospects to collect.
All the information on today's 1 Hour Show can be found on our official website here: 2010 MLB Top Prospect List.
Below are a few players we cover on today's podcast:
This prospect started in the New York Yankees organization and is now playing for the Detroit Tigers. He has a nice Donruss Elite Extra Edition Autograph Rookie that may go up this season as he is projected to be a starter in Detroit.
This hard throwing right hander was the #1 overall draft pick in 2009 by the Washington Nationals. He is expected to start the season in the minors but could see time in the MLB by the end of the season.
This is the #1 Prospect in all of baseball. This hard hitting OF for the Atlanta Braves should see some time in the MLB this season. Be careful buying his cards ... often hyped rookies have to really play well for them to keep going up. Jason Heyward may be one of those players when his career is finished.
This young pitcher should find a spot on the Tampa Bay Rays roster this season, however he would be much farther up the pitching rotation on most other teams. Jeremy Hellickson shows great command and control when on the mound pitching. This could be a great prospect to purchase before he gets his chance in the MLB.
You can also find the low budget prospect we talk about at the tail end of the show on our Low Price 2010 MLB Prospects To Watch.
- Listen To Show #46 Below -
Share
|
Download(

Loading

)
We learn the details of the MLBP and Upper Deck Lawsuit that we discussed on Show #44. Upper Deck takes the worst of it by canceling their planed 2010 Products, agreeing to pay several millions of dollars to MLB and agreeing not to make sets without clearing them with Major League Baseball in the future.
2009/10 Panini Studio Basketball Checklist
This is our only major release of the next week. 09/10 Panini Studio comes out Wednesday March 10, 2010. It will contain an assortment of on-card and sticker autographs including Kobe Bryant, Tyreke Evans and many other top NBA stars. Expect to pay around $75 per box.  Find all of our Sports Trading Card Box Reviews Here.
Game Used Jersey Cards
Our listener question this week is about game-used memorabilia and how collecting full pieces might be a great way to add some excitement to your collection.
Please Visit Our Official Website: www.sportscardradio.com
- Listen To Show #45 Below -
Share
|
Download(

Loading

)
We have two great interview guest for this weeks show. We catch up with Tim Danielson of the Bench Trading and see how the progress is coming along with the YSL Charity Drive. Later in the show Ryan from www.sportscardreport.info joins us to talk about Upper Deck, Topps and the MLB's courtroom battles.
One product of note came out and that was 2010 Topps Heritage Baseball. With only 1 'Hit' per box, this isn't a box-busters dream, however this does make a great product for set collectors and those who love the look and feel of the 'old' baseball cards.
Later on in the show we talk about the NFL Combine and some early thoughts on the upcoming baseball season. Lots of great stuff! Jammed into one episode!
Visit our official website: www.sportscardradio.com
Send Us An E-Mail: sportscardshow@gmail.com
- Listen To Show #44 Below -
Share
|
Download(

Loading

)
---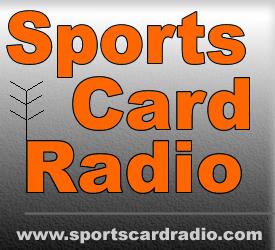 Following
Followers