Archive for September 2008
The Wall St. Edition of Distressed Athletes or otherwise known as distressed investments/assets. Sometimes a card value goes down so much that it becomes very difficult to sell the card for any money. We will give you some players on this list and what are some things you can do about it!
Our second topic covers some Winter Baseball Prospect news and what you can do to stay up on top of things. The SF Giants in particular are loaded and we cover the MILB Pitcher Of The Year among others.
++More++
Send Us An E-Mail Anytime: sportscardshow@gmail.com
Share
|
Download(

Loading

)
Another Jammed Packed song for you all! This one has several topics ranging from the Hot Pack Auctions on eBay. Plus we go back to basics covering Storing and Protecting your Sports Cards!
Check out our article on Sports Card Hot Packs at our official site.
We also talk a bit about a website I mentioned a while back and some of the new things they are doing to improve the site. And obviously a whole bunch more!
Send us an e-mail anytime with show ideas or the such: sportscardshow@gmail.com
Share
|
Download(

Loading

)
Don't Call It A Comeback. We are back, sorry about the break in the action, the old Dell Crashed and Burned, but we've got it back up and going!!
This week is a Battle Royale between a few topics. First one is Upper Deck Products vs Topps Products and the differences between the two.  Upper Deck is know for it's high profile athletes like Michael Jordan, Kobe Bryant, LeBron James, Tiger Woods among others.  Where Topps has its own brand along with Bowman Chrome, which produces some of the best Rookie Cards year after year in Baseball.
The other topic is On-Card Autographs vs Sticker Auto's. I have my own thoughts on this, but I do think Sticker Autographs provide value to the collector, therefore they are a necessary evil.
Plus a BUNCH MORE!! We also announce a New Contest + Last Month's Winner!!
Send me an e-mail: sportscardshow@gmail.com
Share
|
Download(

Loading

)
---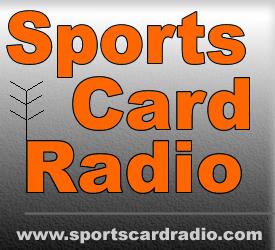 Following
Followers