Archive for July 2011
This week we actually do talk about 2011 Topps Allen & Ginter Baseball, plus another nice basketball set came out 2010/11 Gold Standard, and 2011 Topps Football came out - so we touch on all 3 major sports this week.
Topps Purchases GMG, Blowout/Frontline Collectibles sues Upper Deck & the NFL is back during our news segment.
2011 Topps Allen & Ginter Baseball - Checklist
2010/11 Gold Standard Basketball - Checklist
2011 Topps Football - Checklist
- Listen To Show #81 Below -
Share
|
Download(

Loading

)
The NFL looks like they finally got things worked out & we are on the verge of a crazy free-agent and RC signing period. Its possible lots of rosters get changed around here in the next couple of weeks - so you know that means lots of opportunities for cards to go up/down before they even play!
Totally Certified Basketball, and I'm totally pumped no on is really paying much attention to the NBA because Jordan Crawford Auto's from this set sure don't sell for much. This is a pretty nice set, and I even give details on how to win a FREE BOX during the show! The only thing about this set is that it put pressure on hobby shops to buy Totally Certified, Gold Standard, and Season Update - all which come out within weeks of each other. The clear winner is Gold Standard, and we'll be talking about that set on the next podcast.
We also talk about a fantasy basketball set I put together in my head! ++ Lots of other things!
Get the full show notes: Sports Card Radio Archives
- Listen To Show #80 Below -
Share
|
Download(

Loading

)
Happy July 4th to all our listeners in the US!! While we've got fireworks going off and BBQ full with food, we'll talk about this weeks latest sports card news.
2011 Score Football is out and we have a contest and a $1 box break running on our forums if you get their in time. Find the full checklist here.
2011 Goodwin Champions has a bit of everything for collectors ... but most of the big time hits are Michael Jordan, Tiger Woods and LeBron James autograph cards.
I've sent about 1,000 cards to Check Out My Cards + bought/sold a few hundred the last 6 months and I give you an update on how its going and some of the strategies I've seen used by myself and other traders.
Complete Show Notes & More: Sports Card Radio Archives
- Listen To Show #79 Below -
Share
|
Download(

Loading

)
---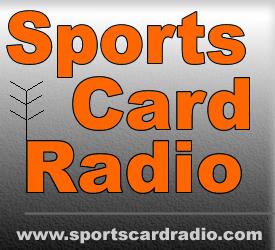 Following
Followers